Disinfect Germs In Just 5 Minutes

Product Description
Our gadgets like phones, watch, earphones and other objects like money, credit cards, that we come in maximum contact with on a regular basis need as much sterilization as our hands.
UV Sanitizer & Wireless Pro ensures maximum hygiene for all your necessary items. Our high-efficiency UV Sanitizer kills germs on your smartphone with Eight Mercury-free UV-C lamps inside in 3 minutes.
It is also useful to quickly disinfect other items like masks, rings, watches, currency notes and other accessories. With a built-in aromatherapy diffuser, all your items will come out fresh and fragrant after sterilization.
Just put 2 drops of your favourite essential perfume oils inside the box in the circular area. If this was not enough; this device also enables 15W Wireless Charging which works with all qi enabled smart gadgets.
Both the process (sterilization + wireless charging) can happen simultaneously or individually as per your need and requirement. Breathe easy and relax knowing you finally have a device that cares about your gadgets as much as you do.
The number of bacteria on your mobile phone is much more than your toilet flush button. In the times of super spreading viruses, it is imperative to sterilize your smartphone.
UV sterilizer box uses UV light and kills 99% microorganisms from the surface of your cell phone. Disinfect your iPhone or Android phone or for that matter any small household item like keys, cash, credit card, spoons, etc.
Product Features
Eliminates upto 99% of germs and bacteria in less than 3 mins: UV Cell Phone Sanitizer even kills the microorganisms hidden in devices.


No Extra Liquid, Chemical or Heat is needed: With Lamp wavelength of 253.7nm you can simply insert the phone or other small items and disinfect them quickly.


Suitable for all mobile phone models under 7 inches: Quickly sterilizes your Phone or Android phone.


Use it to Sterilize other small household items: Like Cash, spoons, watches, credit card, keys, pens, etc


Portable, Easy to use, powered by a USB Cable: UV Steriliser box is lightweight, extremely easy to use with press button sterilizing. It is powered by a USB cable, thus can also be used with a power bank if you are out and about.
Aromatherapy For Your Gadgets

With a built in aroma therapy Diffuser all your items will come out fresh and fragrant after sterilization How to use: Put 2 drops of your favourite essential perfume drip inside the box in the circular area.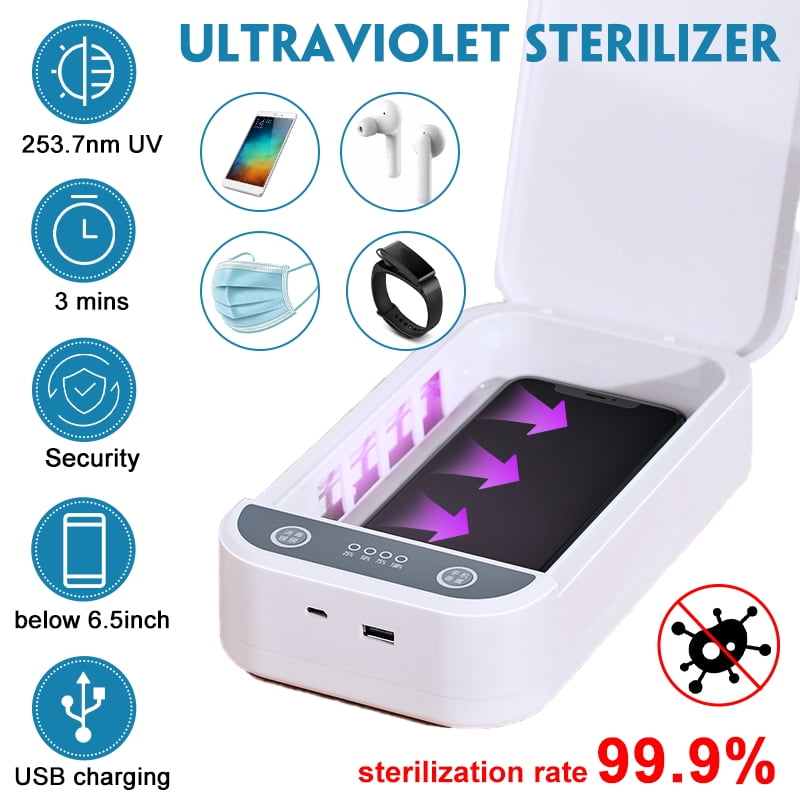 Specifications
Fit up to 6.5 inch smart phone
Standard Input: DC5V 1A
Disinfection Power: 2W
Aromatherapy Power: 1W
Max Power: 5W
Material: ABS
Outer Dimension: 8.8 x 4.9 x 1.96 inch
Inner Dimension: 6.81 x 4.05 x 1.18 inch
Buttons: disinfection, fragrance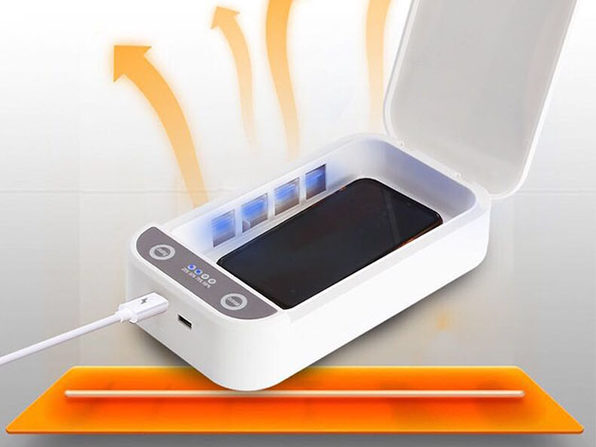 Packages
1 * Cell Phone Sterilizer
1 * Power USB cable
1 * User Manual